Click on picture to learn more: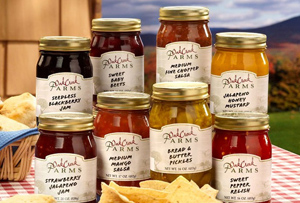 Oak Creek Farms
Oak Creek Farms has a passion for All-Natural foods. No corn syrups, preservatives, or other artificial ingredients are used in our products. If you long for the taste of homemade goodness, our natural foods will bring you back to the taste you crave. You will be proud to serve these as your own!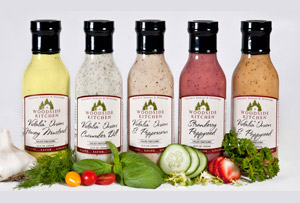 Woodside Kitchen
Woodside Kitchen is committed to adorning, drizzling, marinating, and dressing your food in simply the best sauces to be found. Each recipe is created and testedin our own kitchen with utmost care for your dining pleasure.Taste and experience a new kind of art - designed especially for your gourmet palate.
---
Why Our Customers Love Us
1.
Quality
- Our products are made from family recipes in special commercial kitchens at home. We cook in small batches to ensure the best quality and do not use corn syrup or other cheap fillers. We cook like grandma did in years past.
2.
Low Prices
- By operating at home we keep our overhead down and pass the savings on to you. Although our prices are some of the lowest we never cheapen our products.
3.
Fast Shipping
- Over 99% of our orders ship within 3 days.
4.
Friendly Service
- We seek to build lasting relationships and not just make a quick sale. We look forward to getting to know you.
---
Heritage Food Company was started by Duane and Janice Strite to serve as the distribution arm for several families who make a variety of specialty food. These home-based businesses focus on quality and taste while offering various and unique products that keep customers coming back for more. Our products are all made at home in state-approved, licensed facilities.
We are a wholesale only company that concentrates on delivering only the best quality products at a reasonable price. Although our company offers several established brands, we specialize in private label products that provide your business with the opportunity to promote and build your company in the area that you serve.
Heritage Food Company strives for excellence not only in the products we carry, but also in prompt, personalized customer service. Whether large or small, our customers will be treated the same way we would want to be treated!